Environmental Action
Decarbonizing Our Lives
As the climate crisis gets worse, it is critical that we reduce the amount of carbon in the atmosphere. One way to do that is to decarbonize our lifestyles. We have created a Decarbonizing our Lives Project to share real world decarbonization experiences, with the goal of educating our congregants and others. In these videos, congregants share their experiences with electric vehicles, solar panels, and using heat pumps to heat their houses. This peer-to-peer program is based on the
Jewish Climate Action Network's decarbonizer model
.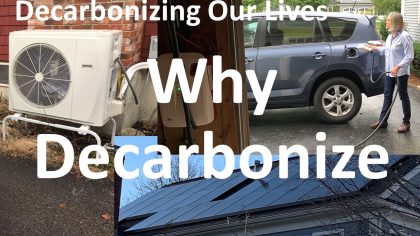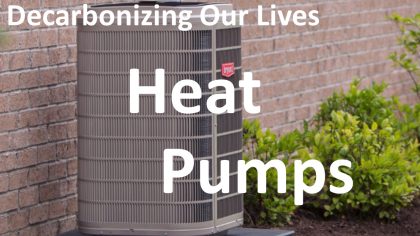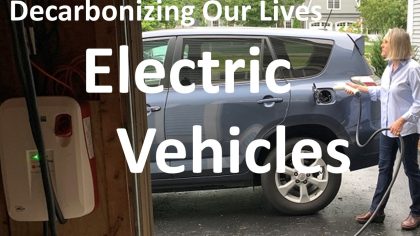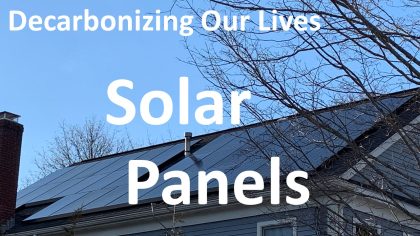 The Green Sanctuary Committee
The Green Sanctuary Committee seeks to affirm and promote our Seventh Principle, which asks us to behave with "respect for the interdependent web of all existence of which we are a part." In accordance with the goals of the UUA's Green Sanctuary program, we aim to:
•raise consciousness about environmental issues, and specifically global warming;
•motivate members to undertake personal lifestyle changes;
•generate commitment to community action on environmental issues;
•address and seek to prevent environmental injustices.
Some of the issues we have taken on include a town-wide anti-idling initiative, recycling, Earth Day cleanup, a "Talking Climate" TV show, Green services, sustainability, interfaith climate actions, and environmental awareness campaigns.
In 2017, First Parish became a Green Sanctuary after five years of challenging ourselves to live up to the implications of our UU principles. Our work now is to be a religious community whose way of living is grounded in sound environmental policies and practices. We are committed to connecting spiritual practice and environmental consciousness. The GS Committee helps develop programs for all ages to shape attitudes and build practices that are sustainable and spiritually-grounded. We connect with other groups in order to identify environmental injustices. And as a congregation and as individual households, we work at treating the world more gently by using fewer resources and being mindful of the choices we make.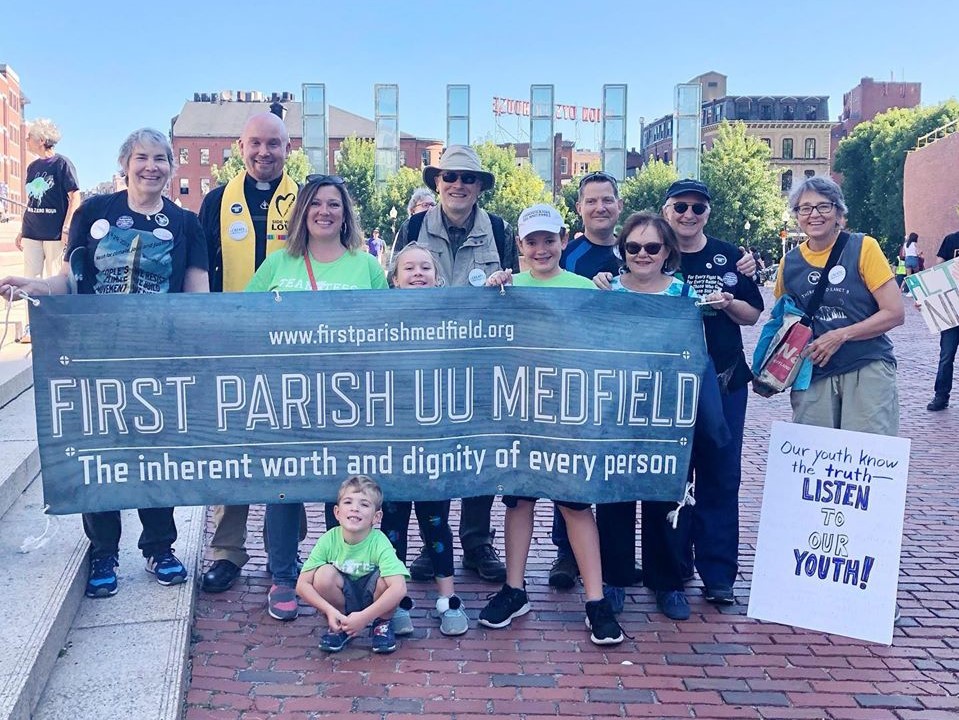 CLIMATE STRIKE September 20, 2019
The Green Sanctuary Committee works with several community groups addressing climate change and the environment.  Some of us are also members of these groups.  Medfield Energy Committee, Medfield Environment Action, Jewish Climate Action Network, and Massachusetts Climate Action Network.
Our Green Sanctuary Committee supports reducing our town's carbon footprint and dependency on fossil fuels, increased energy savings, and a healthier future for everyone.  Along with Medfield Environment Action, we held a Climate Shoe-In to show our concern, with COVID safety steps in place.  One hundred and sixty-two pairs of shoes were present in place of a crowd.