Music
FPUU Medfield has a vibrant and historic music program. There are many opportunities for musically inclined churchgoers to participate:
The FPUU Medfield Choir
The FPUU Medfield Choir is a fun, welcoming group of singers who perform both secular and sacred music at special services throughout the church year. All ages, voice types, and experience levels are welcome! The ability to read music is not required. Contact Eva Conley Kendrick at music@firstparishmedfield.org for more information.
The Larger Circle Folk Band
The Larger Circle Band was formed in 2016 when members of the First Parish Unitarian Universalist in Medfield realized their shared love of international folk music. The band's name comes from a poem by Wendell Berry (see below).
The Larger Circle Band has performed at coffeehouses, FPUU services, and senior centers. International folk dance music is relatively easy to play, and it inspires audiences to tap or dance along. The dances include circle dances, waltzes, polkas, and more — the band's repertoire includes folk tunes from many countries and traditions. On occasion, the band will accompany a singer. And sometimes a professional dance caller joins them to get audiences up on their feet!
You do not need to be a church member to join the band, nor do you have to be an experienced musician. All are welcome! Rehearsals are one evening every other week for about two hours. If you are interested in knowing more, please contact Fritz Fleischmann at ffleischmann@comcast.net. See a performance here.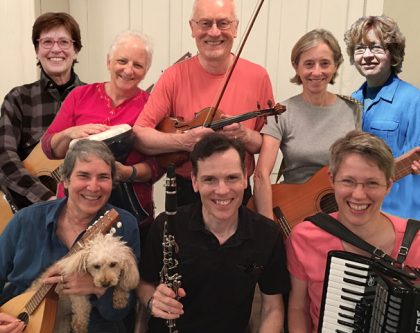 The Larger Circle By Wendell Berry
We clasp the hands of those that go before us,
And the hands of those who come after us.
We enter the little circle of each other's arms
And the larger circle of lovers,
Whose hands are joined in a dance,
And the larger circle of all creatures,
Passing in and out of life,
Who move also in a dance,
To a music so subtle and vast that no ear hears it
Except in fragments.
Music Sunday Service
Our annual Music Sunday service features the musically talented members of our congregation of all ages. Last year's service included a family trio of singers, an elementary school student who wrote his own piano pieces, classical works on piano, violin, and harp; vocal music, the Larger Circle Band, and the FPUU Medfield Choir.
Community Thanksgiving Service
Each year, our choir lifts our voices with other local choirs to provide music for the interdenominational Community Thanksgiving Service, held the Tuesday before Thanksgiving. This service rotates at different churches and a temple in Medfield and Westwood. 
Lowell Mason Holiday Concert
Each year, the FPUU Medfield Choir performs at the Lowell Mason Holiday Concert in December, a fundraiser to benefit the Lowell Mason House, an organization whose mission is to preserve the historic home of our former Music Director and turn it into an active space where music will be made. You can learn more at www.lowellmasonhouse.net
Social Musical Activities
In the 2023-2024 church year, we will be holding a Choir Winter Potluck Party and outings to hear choral music from different cultures. 
---
You are welcome here! 
FPUU Medfield is a welcoming and affirming community, inclusive to people of all backgrounds, races, abilities/disabilities, sexual orientations and gender identities. All who would like to make music with us are welcome!
---
Eva Conley Kendrick 
Director of Music
Eva Conley Kendrick has been the Director of Music at First Parish Medfield since 2006.  She is a composer, vocalist, and voice instructor. Her original hymns and choir anthems have been performed in dozens of states across the country. She is a graduate of the UUA Music Leadership Certification Program and is a noted composer in the Harvard Square Library list of Notable UU Composers.
At FPUU Medfield, Eva's original choral compositions are often performed by the FPUU Medfield Choir. Some of her dramatic works have been performed as fundraisers for the church, including Emily, an opera about Emily Dickinson; Le Bistro Cafe, a musical theatre performed in a dinner theatre style; and Operator, a full-length musical, which was a recipient of a Massachusetts Cultural Council Grant.
A professional vocalist, Eva has performed with light opera and theatre companies and has won several awards. She sings and plays keyboard in a contemporary folk band. She also runs the Eva Kendrick Voice Studio and is Professor of Voice at Dean College.
For more, please visit her website at www.evakendrick.com.