From the Minister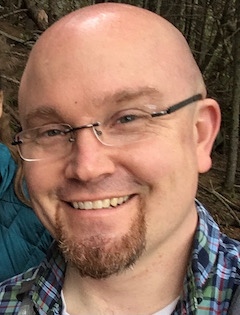 Thank you for your interest in First Parish Unitarian Universalist in Medfield. We hope that you will come visit us some Sunday for one of our 10:00 AM worship services. We are a LGBTQ+ Welcoming Congregation and are fully handicapped accessible. No matter who you are, who you love, or what you believe, you are most welcome to join us.
When you arrive, you will typically find me greeting everyone at the door. Our worship services include lighting our UU chalice, singing hymns, sharing Joys and Concerns, sacred readings, instrumental music, and a sermon. There is a full religious education program, too, for any interested children and youth during worship.
A little about me: I am a lifelong Unitarian Universalist, raised by a UU minister. During my career I have been a stage actor, art teacher, and now a Unitarian Universalist minister. I live nearby in Quincy with my wife and two daughters.
During my seminary training at Andover Newton Theological School, I was the worship coordinator for UUCANS (the UU student group), was inducted into the Jonathan Edwards Honor Society, and I studied abroad in Israel. During my summer of Clinical Pastoral Education, I served as a chaplain at Beverly Hospital and at the Grace Center, a homeless day shelter in Gloucester. I served as a ministerial intern at First Parish UU in Canton, and at First Parish UU Hingham Old Ship Church.
I was the Director of Family Ministry at the Arlington Street Church in Boston, and served as Program Director for their weekly homeless meal, the Friday Night Supper Program. Finally, in addition to currently serving as the minister here in Medfield, I am on the board of trustees at the UU Urban Ministry in Roxbury.
I look forward to getting to know you both during worship and during many other wonderful events that First Parish offers throughout the week. Come check us out! You belong here.