In the Wider World

Green Sanctuary Committee
NEWS:  FPUU wins "Cool Congregations Challenge"
In December 2018, our Green Sanctuary Committee entered a contest—the "Cool Congregations Challenge" put on by the Interfaith Power and Light, a nation-wide organization that mobilizes a religious response to global warming in congregations through the promotion of energy conservation, energy efficiency, and renewable energy.  We entered the Community Inspiration category (there were five categories) and featured the Medfield anti-idling initiative that was done in 2016-17.  
On March 5 we were notified that we won in the Community Inspiration category!  The prize is a check for $1000 for FPUU.  Read about us on the Interfaith Power & Light website as well as the other winning congregations, one of which is another UU congregation in Iowa. They are all inspiring.  The GSC and your Board of Directors will be discussing how this money will be used.  And… let's all who drive automobiles of the gasoline-consuming kind practice what we preach.  Please observe the MA anti-idling law!
———————
The Green Sanctuary Committee seeks to affirm and promote our Seventh Principle, which asks us to behave with "respect for the interdependent web of all existence of which we are a part." In accordance with the goals of the UUA's Green Sanctuary program, we aim to:
•raise consciousness about environmental issues, and specifically global warming;
•motivate members to undertake personal lifestyle changes;
•generate commitment to community action on environmental issues;
•address and seek to prevent environmental injustices.
Some of the issues we have taken on include a town-wide anti-idling initiative, recycling, Earth Day cleanup, a "Talking Climate" TV show, Green services, sustainability, interfaith climate actions, and environmental awareness campaigns.
In 2017, First Parish became a Green Sanctuary after five years of challenging ourselves to live up to the implications of our UU principles. Our work now is to be a religious community whose way of living is grounded in sound environmental policies and practices. We are committed to connecting spiritual practice and environmental consciousness. The GS Committee helps develop programs for all ages to shape attitudes and build practices that are sustainable and spiritually-grounded. We connect with other groups in order to identify environmental injustices. And as a congregation and as individual households, we work at treating the world more gently by using fewer resources and being mindful of the choices we make.
To learn more, please visit our blog.
What has the
Green Sanctuary Committee
been up
 to?
Climate Ribbon Project: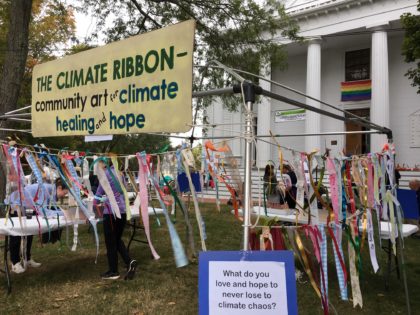 Participated in the Climate Strike September 20, 2019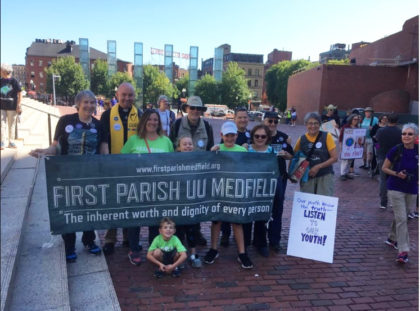 Church members are involved in several projects in the area that provide support and advocate for people in difficult circumstances, including:
Family Promise Metrowest
Family Promise Metrowest is a…
cooperative, interfaith partnership offering
hope for homeless families with children, including
safe transitional shelter, meals, and support to permanent housing.
FPUU Medfield is a support congregation for Family Promise Metrowest.
How Can I Help?
Help prepare and serve dinners, coordinate an activity, organize supplies, assist guests, socialize, assist with children's needs, or just play.
Donate items needed by the guests or the day center.
Watch the Wiki for the latest needs and volunteer opportunities.  Bookmark the site; it's updated frequently.
Look at the Hosting Schedule for Area Churches.
For more information about volunteering call or email Judy at 508-318-4820 or judy@familypromisemetrowest.org.
---
NewLife Home Refurnishings, a Medfield-based ministry of recycling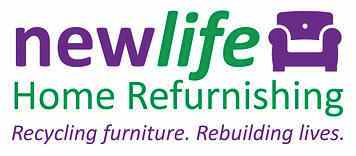 For people coming out of difficult times with limited resources, it is often very difficult to find the household items needed to set up living in an apartment.  The mission of NewLife Home Refurnishing is to distribute "gently used" household goods at no cost to individuals and families who need help to rebuild their lives. Our clients come to us through referrals from social service and government agencies, as well as area clergy.
Our goal is to treat our clients with dignity, providing them with a "shopping" opportunity to furnish their new home with the basic necessities from our inventory.
NewLife relies on the generosity of residents of Medfield and the surrounding towns. We accept most basic furniture and household items in good condition. Those who are downsizing or redecorating can recycle their items, knowing they will be put to good use and kept out of landfills. Donations are tax deductible.
To arrange a donation or to volunteer with others from our church, sign up on the sheet in the vestry or speak with Duncan Glover; for more information go to www.newlifehr.org.
---
Unitarian Universalist Urban Ministry (UUUM)
The Unitarian Universalist Urban Ministry works side-by-side with Boston's urban communities to create opportunities and instill hope for a brighter future.
Members of First Parish currently provide weekly English language instruction at the UUUM, but there are volunteer activities of many sorts. See their web site.
---
Medfield Food Cupboard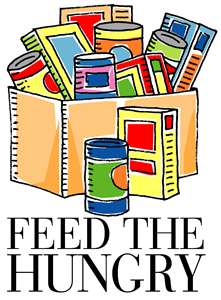 The Medfield Food Cupboard provides assistance to residents of Medfield who are in need of supplemental or emergency food. The Food Cupboard is generously supported by the residents of Medfield, the town's churches, and various community organizations. First Parish collects food items for the Medfield Food Cupboard and every week a youth volunteer delivers it to the Food Cupboard.
Food is distributed approximately every two weeks at the Food Cupboard home: the United Church of Christ, 496 Main Street, Medfield.  If you need the services of the Food Cupboard, please call 508-359-4958 and leave a message.
Donations of non-perishable, unopened, unexpired food items may be dropped off in the narthex. Donations of canned tuna and chicken, canned pasta, canned fruits and vegetables, cereal, peanut butter, jelly, applesauce, juice, pasta sauces, paper products (paper towels, Kleenex, and toilet paper), cleaning products, and health and beauty aids such as shampoo, toothpaste, and shaving razors or refills, are always welcome. Financial donations may be mailed to the Medfield Food Cupboard at PO Box 172, Medfield, MA  02052.  Financial donations are used to supplement food contributions by purchasing meats, cheese, frozen items, and any item in short supply.
---
Project Bread
Project Bread is dedicated to alleviating, preventing, and ultimately ending hunger in Massachusetts.
First Parish members participate annually in The Walk for Hunger, the oldest continual pledge walk in the country. Watch for information in the Spring.