Social Justice

An Open Letter to the Larger Community
from First Parish Unitarian Universalist of Medfield
Recent events have reminded us that racial injustice has existed in this country since before its founding and continues to this day. We at First Parish Unitarian Universalist of Medfield are shocked and saddened by these events as they come to light. We choose to stand with the Black Lives Matter movement and anyone who is working to create a more inclusive future.
Our Unitarian Universalist faith is based on principles that identify our relationship to the world and to each other. As Unitarian Universalists, we cannot be silent or inactive while racial injustice continues to pervade our society. Such injustice runs counter to so many elements of the principles we hold dear.
Our first principle affirms the inherent worth and dignity of every person. Injustices against people of color such as race-profiling, disparities in healthcare and education, environmental inequities, police bias, and racism woven into our legal system starkly violate this principle.
Our second principle teaches us to seek justice, equity, and compassion in human relations. When communities of color are disproportionately impacted by the unequal burden of pollution in minority neighborhoods, excessive incarceration, voting restrictions, financial redlining, and other institutionally engrained obstacles, the second principle teaches us to stand up for change.
At the same time, our third principle promotes acceptance of one another and encouragement to spiritual growth, guiding us to be kind to ourselves and each other during difficult times, to encourage spiritual growth in ourselves and others, and to accept one another's differences in our congregation and our world. We pledge to help each other wherever we are on our personal journeys, as we navigate the often heart-wrenching events of our times.
Finally, our seventh principle asserts the need for respect for the interdependent web of all existence, of which we are a part. We strive to build a world where there is a level playing field and where institutional racism has been eliminated.
We realize we don't have a solution to our society's embedded racial injustices. We believe it is necessary to spend time learning, listening, and acting in accordance with our principles. Our hope is that by educating ourselves, we will be better prepared to effect and participate in positive change. By listening to the voices of those who have been historically marginalized, we resolve to become better allies in the struggle to create a more fair society. By seeking out ways to advocate for and make change, we can realize a more just world.
First Parish will publicize our future actions and invite anyone interested to join with us.
Respectfully,
First Parish Unitarian Universalist of Medfield
A Light in the Darkness Vigil
An outdoor candlelight vigil was held on the steps of First Parish Unitarian Universalist May 25th to mark the second anniversary of the killing of George Floyd.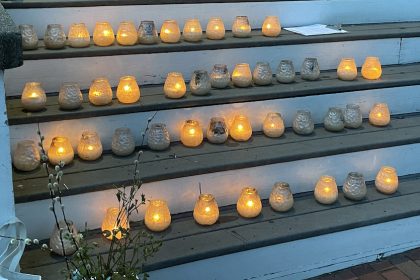 Members of First Parish's Anti-Racism team organized the vigil in order to honor people of color who have been unjustly killed by police and to reflect on the many other ways in which racism is harmful. Systemic racism persists throughout our society, affecting Black people not only in terms of disproportionate deaths by police, but also in terms of health, finances, education, employment, housing, and other areas. To be fair, bias and racism are not found only within the police force and policing. They are found everywhere. But within this system, where police officers risk their own lives and make split-second decisions, bias and racism have had, and continue to have, deadly consequences.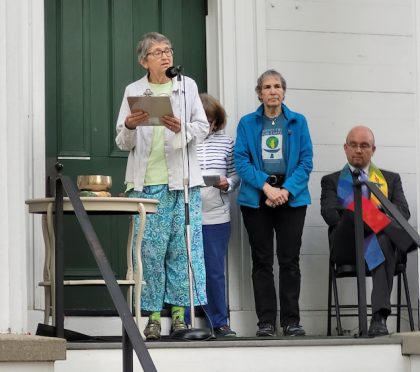 At the gathering, we symbolically made visible the violence that happens by shining a light in the darkness. Participants stood in front of the microphone, read a name of a person killed, and took a candle.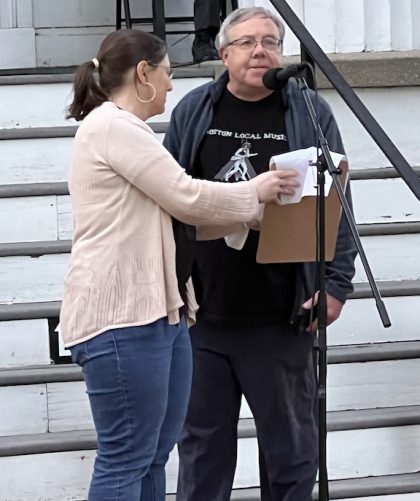 And because the Buffalo mass shooting had just happened, we read the names of those who died in this Buffalo shooting, followed by the three additional victims who survived. Police violence is only one of many ways in which people of color are harmed, killed, or otherwise have outcomes worsened by the effects of past and present-day racism. We therefore highlighted some statistics, such as the median Black household earns just 61 cents for every dollar of income the median white household earns, and Blacks have experienced higher rates of COVID-19 infection and death compared to Whites. After the names were read, clergy from Temple Beth David and St. Edward Catholic Church joined Rev. Dave Egan from First Parish to speak pastoral prayers.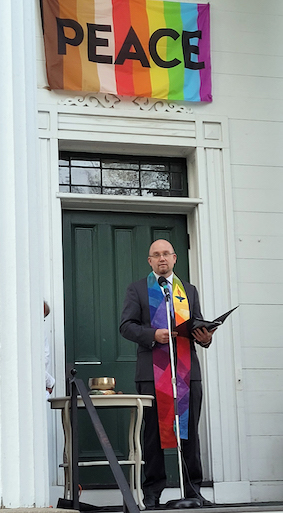 Afterwards, participants slowly walked around Meetinghouse Pond with their candles. It was a moving experience for all.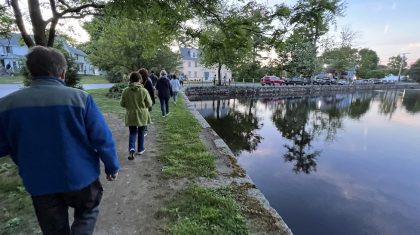 Anti-Racism Vigil 2021
To honor those who have lost their lives due to the effects of racism, FPUU held an anti-racism vigil in May of 2021. The goal was also to support those who have dealt with the impacts of racism in their daily lives. Speakers ranged from politicians to clergy to storytellers. State Representative Denise Garlick quoted Maya Angelou saying "do the best you can until you know better. Then when you know better, do better." State Senator Paul Feeney compared racism to the coronavirus, noting that while COVID came from the outside, "racism, being the virus that it is, attaches itself to our own weaker selves." Poet Regie Gibson, a regular speaker at First Parish, urged white people to keep coming back for dialog about race. Medfield artist Kurt Jackson talked about racism incidents he has dealt with. Storyteller Jamale Adams read his poem, "Who Shot You", talks about the places people of color have been shot. He is the founder of Freedom Teams which preserve freedom through unity in the community. Since the May 2021 anti-racism vigil, FPUU has established closer ties to Medfield Together, and a new Freedom Team has been established in Franklin. To watch the full vigil, which was filmed by Medfield TV, click
here.
Social Justice Incubator (SJI)
Our mission statement:
"The Social Justice Incubator fosters congregation-based social justice initiatives, inspiring people through study, dialogue, reflection, and action. We invite, support and nurture social justice action taken by individuals or groups within our congregation, understanding that there are a wide variety of views and perspectives among FPUU members and friends." 
Rather than form a traditional type of committee, in June 2020, an "incubator" form of committee was conceived by social justice volunteers from the congregation.  Social justice initiatives of various kinds already happening within the congregation are encouraged and supported by the SJI.  New ideas, projects, and activities are welcome and the SJI will work with individuals and/or groups to nurture and grow these efforts.  The SJI operates with shared leadership and responsibilities.  Established and new initiatives are identified below:
Anti-racism Team
Growing out of the Social Justice Incubator, the Anti-racism Team is open to all interested congregants. The team's vison, planning, and actions focus on the individual, our congregation, and the larger community.  If you are interested in joining us, please email becca_kornet@yahoo.com.
FPUU has voted unanimously to adopt the

8

th

Principle

. We covenant to affirm and promote: journeying toward spiritual wholeness by working to build a diverse multicultural Beloved Community by our actions that accountably dismantle racism and other oppressions in ourselves and our institutions. With this vote, we join at least

209 other UU congregations

.
Some members of our team participate in the Black Lives Matter working group of the statewide UU Mass Action.

 

We are developing a relationship with

Medfield Together

, a local anti-oppression organization.

 
Anti-Racism Book Discussion Group
Our anti-racism book discussion meets roughly once a month via Zoom to discuss books focused on issues of racial justice. In our first three months, we read "So You Want to Talk About Race" by Ijeoma Oluo, "How to be an Antiracist" by Ibram X Kendi, and "The New Jim Crow" by Michelle Alexander. In the future we will likely have at least one discussion group in conjunction with the Green Sanctuary Committee, discussing a book focused on environmental justice. The discussion date is set each month based on majority availability of the folks attending. If you are interested in joining, please email becca_kornet@yahoo.com.
A List of Racial Justice Resources
The Anti-racism Task Force has put together a list of resources that are helpful in educating oneself about racism and being anti-racist. The list contains articles, books, and movies, as well as resources for parents and kids. Click here 
for the racial justice resource list.
Decentering Whiteness Workshop
First Parish members and friends participated in a Decentering Whiteness 8-week workshop via Zoom in the Fall of 2020. It primarily focused on helping white people understand the racial component of their identity, and how to live with authenticity and integrity as a white person in a society grounded in white supremacy. It involved understanding the structural foundation of racism quite apart from the bigotry and discrimination that flows from individuals and how it exists almost independently of individual racist people. The sessions were led by Ken Wagner, an experienced antiracism workshop leader, a Unitarian Universalist, and a past guest speaker at FPUU Sunday worship. Since 2014, Ken has facilitated these workshops at more than twenty congregations and community groups across New England. He does this work free of charge and hopes that any donations given will go to Black Lives UU (BLUU).
Wayside Pulpit Ministry Team
This small group of volunteer congregants is responsible for making decisions about and posting quote posters in our traditional Wayside Pulpit, located on the North Street side of the main church building.  Beginning July 2020, a decision was made to create a new series of ten quotes focused on antiracism and centering Black voices.  Posters are changed every month.
The two-sided Wayside Pulpit structure is also used for event messages for the community at large.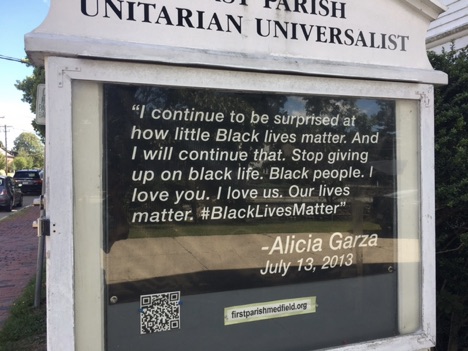 Church members are involved in several projects in the area that provide support and advocate for people in difficult circumstances, including:
NewLife Home Refurnishings, a Medfield-based ministry of recycling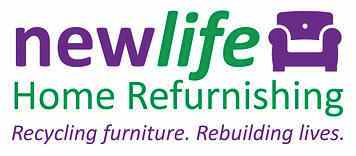 For people coming out of difficult times with limited resources, it is often very difficult to find the household items needed to set up living in an apartment.  The mission of NewLife Home Refurnishing is to distribute "gently used" household goods at no cost to individuals and families who need help to rebuild their lives. Our clients come to us through referrals from social service and government agencies, as well as area clergy.
Our goal is to treat our clients with dignity, providing them with a "shopping" opportunity to furnish their new home with the basic necessities from our inventory.
NewLife relies on the generosity of residents of Medfield and the surrounding towns. We accept most basic furniture and household items in good condition. Those who are downsizing or redecorating can recycle their items, knowing they will be put to good use and kept out of landfills. Donations are tax deductible.
For more information, please go to https://newlifefb.org
---
Unitarian Universalist Urban Ministry (UUUM)
The Unitarian Universalist Urban Ministry, located in Roxbury Massachusetts, works every day to create a more fair and equitable society.  Over its 190-year history, the Urban Ministry has created many channels to conduct its work in addressing social issues, including settlement houses and chapels, affordable housing, community centers and service programs. Today, approximately 50 Unitarian Universalist congregations provide both financial and volunteer support, viewing this ministry as one of their social action arms in Boston.  First Parish has supported the UUUM financially and through various volunteer service projects.  See their web site.
One project that members of First Parish have participated in recently is Fair Foods at the U.U. Urban Ministry.  Fair Foods is a non-profit food rescue organization dedicated to providing surplus goods at low or no cost to those in need.  Since 1988, they have rescued and delivered millions of pounds of fresh produce to low income communities throughout New England and around the world.  Volunteers from First Parish have traveled to the UU Urban Ministry each month to help sort, bag, and distribute produce to folks who often have poor access to fresh fruits and vegetables.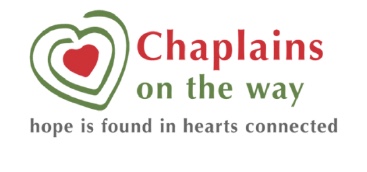 Chaplains on the Way (COTW) believes that no person suffering from homelessness should feel they have to walk alone. We live out our mission by building trusting relations with people in Waltham, MA who are experiencing homelessness and struggling with mental health and/or substance use issues. We offer a ministry of compassion and companionship through life's struggles and triumphs, welcomi
ng all into relationship and loving community.
In working toward our vision, we expand the circle of care for those we serve by providing a bridge to social services agencies. We also act as a bridge with faith communities and schools to educate and raise awareness by providing opportunities to become involved and experience our chaplaincy. This work inspires us to advocate for systemic change on the issues of homelessness, mental health, and substance use. For more information, email info@chaplainsontheway.org or cal  617-504-6877.
Medfield Food Cupboard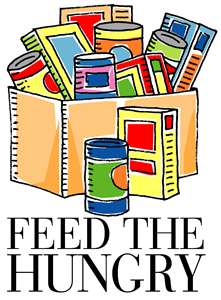 The Medfield Food Cupboard provides assistance to residents of Medfield who are in need of supplemental or emergency food. The Food Cupboard is generously supported by the residents of Medfield, the town's churches, and various community organizations. First Parish collects food items for the Medfield Food Cupboard and every week a youth volunteer delivers it to the Food Cupboard.
Food is distributed approximately every two weeks at the Food Cupboard home: the United Church of Christ, 496 Main Street, Medfield.  If you need the services of the Food Cupboard, please call 508-359-4958 and leave a message.
Donations of non-perishable, unopened, unexpired food items may be dropped off in the narthex. Donations of canned tuna and chicken, canned pasta, canned fruits and vegetables, cereal, peanut butter, jelly, applesauce, juice, pasta sauces, paper products (paper towels, Kleenex, and toilet paper), cleaning products, and health and beauty aids such as shampoo, toothpaste, and shaving razors or refills, are always welcome. Financial donations may be mailed to the Medfield Food Cupboard at PO Box 172, Medfield, MA  02052.  Financial donations are used to supplement food contributions by purchasing meats, cheese, frozen items, and any item in short supply.
---
Project Bread
Project Bread is dedicated to alleviating, preventing, and ultimately ending hunger in Massachusetts.
First Parish members participate annually in The Walk for Hunger, the oldest continual pledge walk in the country. Watch for information in the Spring.