Social Justice
Fighting for social justice is a key element of being a Unitarian Universalist. At First Parish UU, we offer a variety of ways to get involved.
The Social Justice Incubator (SJI) serves as an umbrella group to help nurture and support a wide variety of social justice initiatives led by FPUU congregants.
Here are the initiatives either currently going on at FPUU or on the horizon (in alphabetical order). Want to join SJI or get in involved in a particular initiative? Email sji@firstparishmedfield.org
---
Anti-Racism Team (ART)
Focused on anti-racist work and offering many opportunities for the congregation to get involved, including:
Anti-racism book discussion group
Small group programs such as Knotty Conversations, Widening the Circle of Concern, and anti-racist role-playing workshops
Participation in quarterly meetings of the UU Mass Action Black Lives Matter working group
Annual anti-racist vigils marking the anniversary of George Floyd's death
A list of racial justice resources that are helpful in educating oneself about racism and being anti-racist. Click here for the racial justice resource list.

 
Want to join the ART, join the anti-racism book discussion group, or learn more about other initiatives? Email art@firstparishmedfield.org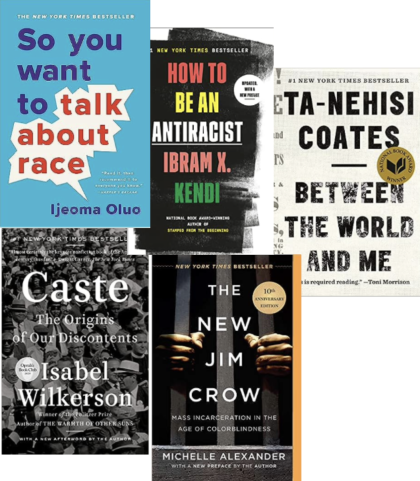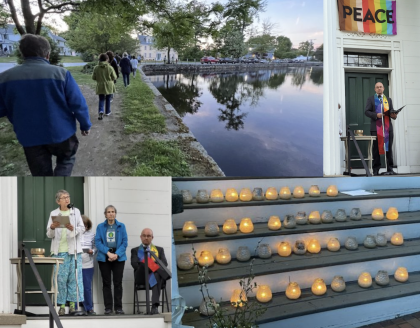 ---
Blood Drive
Come to the Red Cross Blood Drive at 26 North Street Medfield, MA. Tuesday, November 14, 2023 12:30 a.m. to 6:00 p.m. Please call 1-800-RED CROSS (1-800-733-2767) or visit this link and enter: UUMedfield to schedule an appointment. For any further questions please contact us at blooddrive@firstparishmedfield.org.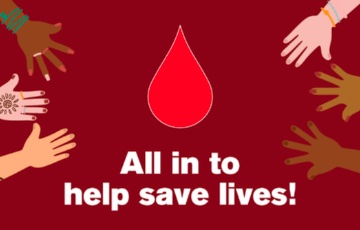 ---
Chaplains on the Way
Program helping unhoused people in Waltham
Morning meetups
Breakfast program
Gatherings at the Gazebo
Spiritual practices and companionship, interfaith services
Accepting donations of clothing, blankets, and other needed items
Learn more at www.chaplainsontheway.us
Have questions or want to get involved? Email chaplains@firstparishmedfield.org.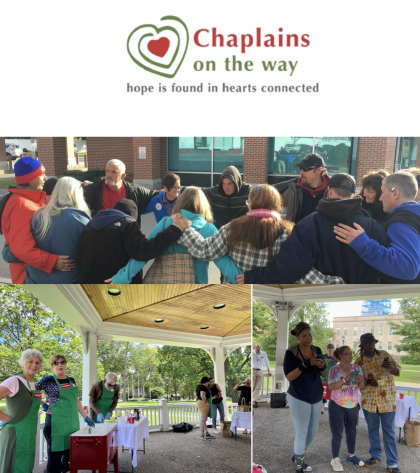 ---
Dignity Matters
Program providing feminine sanitary products, bras, and underwear to women and girls in need. Collection box outside the front door of the U House.
Learn more at https://www.dignity-matters.org
Have questions or want to get involved? Email dignitymatters@firstparishmedfield.org.

---
Family Promise Metrowest
Program providing housing and meals to families experiencing homelessness
Unique model where a small number of families live at the organization's space in Natick Center, receiving support (housing, meals, career) until they are able to successfully graduate to their own home
Much of the meal support is provided by area congregations – churches, synagogues, and mosques; First Parish UU Medfield typically has four weeks per year when we are assigned to help, but opportunities are available to anyone who is interested
Have questions or want to get involved? Email familypromise@firstparishmedfield.org.

---
Green Sanctuary Committee
FPUU is a UUA "Green Sanctuary Congregation." The Green Sanctuary Committee guides the congregation to act on its commitment to environmental justice, care for the Earth, and mitigation of climate change, in terms of learning, making choices, and taking action.
Have questions or want to get involved? Email greensanctuary@firstparishmedfield.org. See our full page on Environmental Action.
---
LGBTQ Luncheon Program
FPUU, in collaboration with HESCCO and the LGBT Aging Project, has sponsored the Meeting House Cafe Lunch Club for LGBT Seniors, Friends & Allies in the vestry one Monday each month. Although the Lunch Club is currently on hiatus, plans are underway to start up again.
Have questions or want to get involved? Email lgbtqlunch@firstparishmedfield.org.
---
Walk for Hunger
For many years, Team First Parish walked in the Boston Walk for Hunger. The WfH went on hiatus during COVID, and currently is back in-person but offering a much shorter distance. In the interim, we have had our own Walk for Hunger at Noon Hill in Medfield to raise money for Project Bread.
Learn more at https://www.projectbread.org/the-walk-for-hunger
Have questions or want to get involved? Email walkforhunger@firstparishmedfield.org.

---
UU Urban Ministry (UUUM)
UU social justice organization headquartered at First Church in Roxbury, working across race & place to dismantle racism and white supremacy culture and to advance racial, economic, and social justice.
Among the many things they offer:
Support for youth programming in Roxbury
Safe housing and healing counseling to families fleeing from domestic violence through Renewal House emergency shelter
Believe in Success – job and education-readiness training program for survivors of domestic violence

 

Educational tours
Learn more at www.uuum.org
---
Wayside Pulpit Ministry
This small group of volunteer congregants is responsible for making decisions about and posting quote posters in our traditional Wayside Pulpit, located on the North Street side of the main church building.  Posters, with a focus on social justice, are changed every month and include a series of ten quotes on anti-racism and centering Black voices.
The two-sided Wayside Pulpit structure is also used for event messages for the community at large.
Have questions or want to get involved? Email waysidepulpit@firstparishmedfield.org.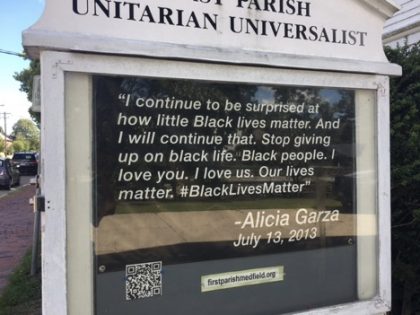 ---
Other organizations we have supported in the past, and that many congregants are involved with:
Medfield Food Cupboard
Program providing food to local residents facing food insecurity
Learn more at www.medfieldfoodcupboard.com

New Life Furniture Bank of MA
Program providing gently-used household furnishings to individuals and families transitioning out of homelessness
Learn more at https://newlifefb.org

---
An Open Letter to the Larger Community
Written in 2020 in response to the killing of George Floyd
Recent events have reminded us that racial injustice has existed in this country since before its founding and continues to this day. We at First Parish Unitarian Universalist of Medfield are shocked and saddened by these events as they come to light. We choose to stand with the Black Lives Matter movement and anyone who is working to create a more inclusive future.
Our Unitarian Universalist faith is based on principles that identify our relationship to the world and to each other. As Unitarian Universalists, we cannot be silent or inactive while racial injustice continues to pervade our society. Such injustice runs counter to so many elements of the principles we hold dear.
Our first principle affirms the inherent worth and dignity of every person. Injustices against people of color such as race-profiling, disparities in healthcare and education, environmental inequities, police bias, and racism woven into our legal system starkly violate this principle.
Our second principle teaches us to seek justice, equity, and compassion in human relations. When communities of color are disproportionately impacted by the unequal burden of pollution in minority neighborhoods, excessive incarceration, voting restrictions, financial redlining, and other institutionally engrained obstacles, the second principle teaches us to stand up for change.
At the same time, our third principle promotes acceptance of one another and encouragement to spiritual growth, guiding us to be kind to ourselves and each other during difficult times, to encourage spiritual growth in ourselves and others, and to accept one another's differences in our congregation and our world. We pledge to help each other wherever we are on our personal journeys, as we navigate the often heart-wrenching events of our times.
Finally, our seventh principle asserts the need for respect for the interdependent web of all existence, of which we are a part. We strive to build a world where there is a level playing field and where institutional racism has been eliminated.
We realize we don't have a solution to our society's embedded racial injustices. We believe it is necessary to spend time learning, listening, and acting in accordance with our principles. Our hope is that by educating ourselves, we will be better prepared to effect and participate in positive change. By listening to the voices of those who have been historically marginalized, we resolve to become better allies in the struggle to create a more fair society. By seeking out ways to advocate for and make change, we can realize a more just world.
First Parish will publicize our future actions and invite anyone interested to join with us.
Respectfully,
First Parish Unitarian Universalist of Medfield